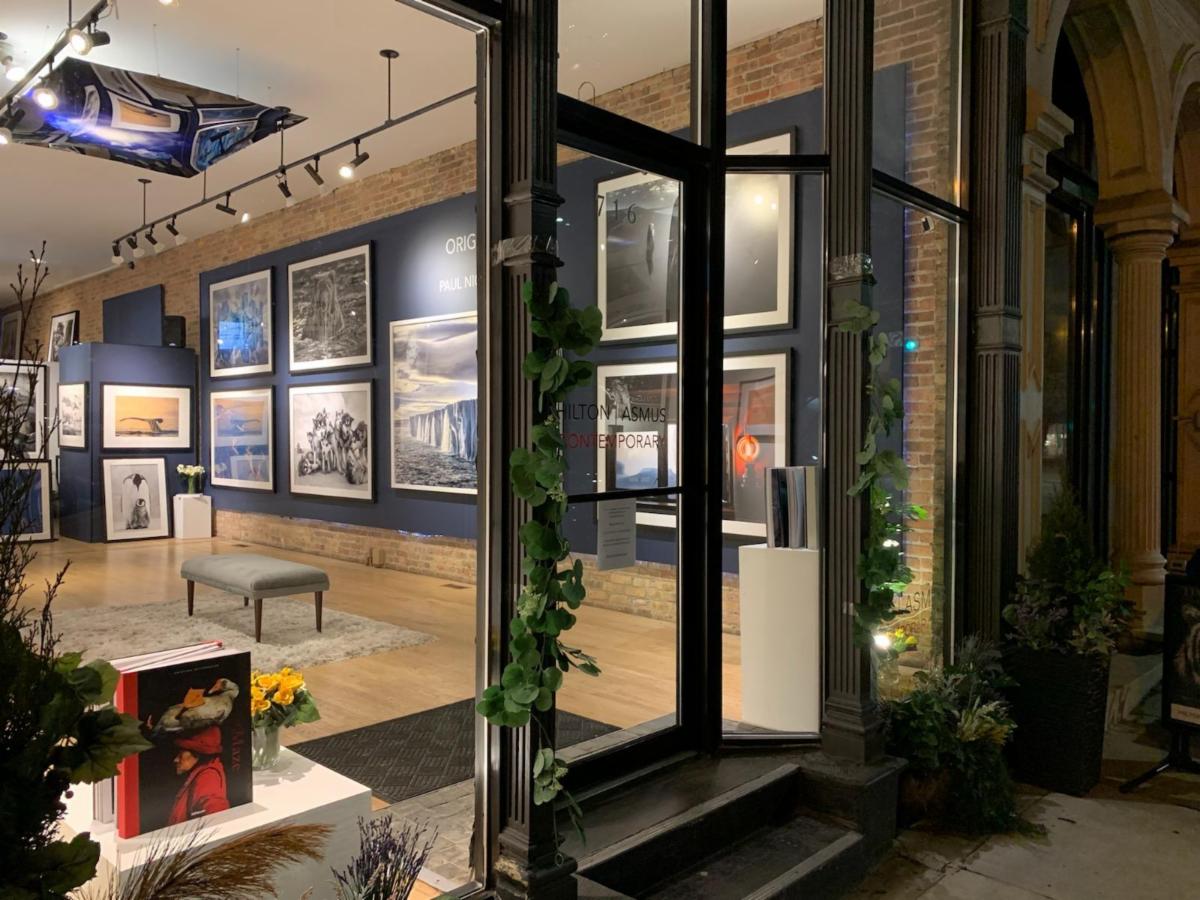 Thursday:
July 16th ~ 1:00 - 6:00 pm
Friday: July 17th ~
1:00 - 6:00 pm
Saturday: July 18th ~ 1
1:00 am - 6:00 pm
I am thrilled to announce that our gallery has officially reopened!
What a memorable last few months it has been. From lockdowns to history making protests, we have seen it all! But Chicago is a resilient city. And human beings are irrepressible in their passion for life. Here we are, as the arts have been the recorders of history since the beginning of human evolution.
If you recall, we began the year 2020 with two thoughts in mind: The Art and Science of Happiness and Our Year of Conservation. We continue to travel that path as these two themes have become more important than ever. Although we have had a few detours along the way, we believe that we must continue our efforts in the field of environmental conservation through art, and always, the pursuit of happiness.
As we had to postpone the opening of Paul Nicklen's and Cristina Mittermeier's premier exhibition, ORIGINS, last April, you will

finally be able to view their iconic conservation photography on our walls.
Paul Nicklen "Ephemeral Palace" 2012.
Antarctic Peninsula, Antarctica
One of the most acclaimed and respected photographers in the world, PAUL NICKLEN Canadian filmmaker, marine biologist, TED Talks legend,

author and National Geographic Fellow,

has documented the beauty and the plight of our planet for over twenty years. As an assignment photographer for National Geographic, Paul captures the imagination of a global audience, with over 6.6 million followers on Instagram alone. He
collaborates with scientists, filmmakers, conservationists and explorers to create awareness and inspire action for global issues such as climate change.
The rock band Pearl Jam recently released their latest album, GIGATON, with Paul Nicklen's "Ice Waterfall" as the cover. States Paul, "What makes a work of art timeless? This is obviously a very subjective question, but I want to share my personal take on this topic through my photos. To me, my work is timeless because what I photograph is not timeless at all. When I am shooting, I am looking to capture a unique moment that will never occur again. The animals and places in my work are not promised tomorrow, and it is my mission to capture their elegance and grace to be preserved in time. My photos depict the delicate pieces to the larger picture of a troubled planet. Always remember that hope is not lost, and it is through my work that I wish to inspire, uplift and provoke change in these unique times."
On left, Pearl Jam's new album, GIGATON. On right, Paul Nicklen and Cristina Mittermeier on Hilton | Asmus Live
For the past twenty-five years, Mexico-born CRISTINA MITTERMEIER has dedicated herself to inspiring a global audience to care about the delicate balance between human well-being and healthy ecosystems. Marine biologist, writer, and

one of the most influential female photographers in the world, Cristina

is a pioneer in the use of powerful and emotive imagery to propel

awareness to the issues surrounding ocean conservation and indigenous cultures

. For International Women's Day on March 6, 2020, Mercedes-Benz featured Cristina in their She's Mercedes campaign, a platform dedicated to inspiring, connecting and empowering women. In that same vein, Cristina's "Lady With the Goose" was recently featured on the cover of WomanScape Magazine, a collection of stories about women in history, women making history and the changemakers of our times.
Of course, you will also see one of the largest collections of the iconic photographs of DAVID YARROW, including many images from his latest photo shoot in Texas and from his homeland in Devon, England that will also be on display. On the news front, we are thrilled that HOUSE BEAUTIFUL Magazine will be featuring David's works in their fall issue. More to come as we get closer to the publication.
David Yarrow "3:10 to Yuma", Texas
2020
And last but not least, we are honored to participate in the virtual edition of one of our favorite art fairs, ART ASPEN. This is the week we would have been preparing to ship all art to exhibit in Aspen, but because of social distancing restrictions, the organizers of the fair have created a comprehensive online exhibition with live broadcasts that will come directly to your home. I will be sending a separate email with details.
Plea
se join us for a
n open house next week to celebrate the reopening of our gallery.
We are making sure our space is sanitized and ready to receive you safely.
I personally look forward to welcoming you to
Hilton | Asmus Contemporary
once again.
Hilton | Asmus Contemporary
+1.312.852.8200
REPRESENTING:
David Yarrow, Paul Nicklen, Cristina Mittermeier, David Gamble, Hugh Arnold, Terry O'Neill, Julian Wasser, Lawrence Schiller, Susan Aurinko, Norman Parkinson, Jack Perno, Peter Sorel, Blake Ward, Boky Hackel-Ward, Ted Williams, and Zack Whitford
_________________________________________
Introducing
JULIA BIRKA-WHITE
art historian and sales assistant
Julia Birka-White
is a Chicago-based art historian and arts organizer. In 2019, she graduated from the School of the Art Institute of Chicago (SAIC) in the Master of Arts in Modern and Contemporary Art History program. Julia received a Bachelor of Arts in English Literature with a Creative Writing emphasis from Lake Forest College (Lake Forest, IL). Originally from the San Francisco Bay Area, she worked at GAGOSIAN prior to moving to Chicago to acquire her MA. Her academic interests include contemporary Polish art, representations of nationalism in art, postsocialism and postcommunism studies, and monument photography in former socialist and communist countries. In her spare time, Julia loves to cook (we have to try her homemade pasta), loves film and music, and she is an athlete.
We are thrilled to welcome Julia to
Hilton | Asmus Contemporary!
_________________________________________________________
Contact:

info@hilton-asmus.com

312.852.8200