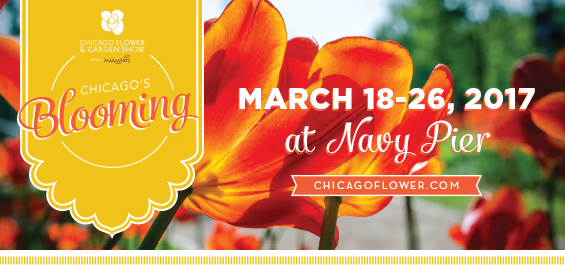 Spring began early in Chicago this year, thanks to warmer-than-usual temperatures. As green shoots emerge from the ground and buds pop from tree branches, "Chicago's Blooming" at Navy Pier, opening this saturday, March 18! Plan your trip to the show to make your gardens, containers and indoor and outdoor spaces better than ever!

Want to map out your visit to this year's show? Visit our website for schedules of Gardening Live presentations, seminars, Garden Gourmet and daily Potting Parties and for a sneak peek at the 2017 display gardens. Before you head to Navy Pier, download the GrowIt! app, which will provide free information on virtually every flower in the display gardens.





Fashion, food and fun add up to a fabulous Friday, March 17. Join us from 6 to 9:30 p.m. for Evening in Bloom. Guests will also be treated to extraordinary culinary presentations in collaboration with Pilot Light and the Illinois Restaurant Association Education Foundation and a special fashion show presentation of FLEUROTICA, in collaboration with the Garfield Park Conservatory Alliance.

Making History, Celebrating History




Walking into the Chicago Flower & Garden Show is like walking through time. The entrance garden (Garden 1) will feature floral displays commemorating the 100th anniversary of show venue Navy Pier and the historic World Series win by the Chicago Cubs. Look for other icons fashioned with florals, such as the hallmark Picasso sculpture in Daley Plaza. As you meander through Festival Hall, you'll come across other historic and signature Chicago elements, including the 811 Bungalow Garden (Garden 12), featuring a charming bungalow façade, and a section of elevated "L" tracks.



Learn
Get tips from experts across a variety of disciplines, from the science of soil to the art of flower pressing, through jam-packed Seminar series and Gardening Live presentations.


Do

See

Get inspired at the 20-plus feature gardens. We've shined the spotlight on bungalow facades, urban agriculture, small space gardens, workspace plants and flowers, health and healing gardens and oh, so much more. Click here to get a preview of the 2017 garden displays.

Eat

Feast your eyes on the culinary delights prepared by chefs presenting on the Garden Gourmet stage. We're thrilled to welcome several of the city's notable chefs, such as James Beard Award-winning Chef and Pilot Light co-founder Paul Kahan, Chef John Coletta of Quartino and Laurel Boger of Eli's Cheesecake, among many others. Whet your appetite with a listing of participating chefs here.






Savor

Shop

Bring a bag – and your excitement for improving your garden, landscape and décor – at the Marketplace. Vendors from all over the Midwest and nation will offer a host of goods, including flowers, bulbs, garden equipment, home improvement supplies and green products and services.

The fusing of architecture and landscape, and of nature and form, is inspiring and motivating. After the Chicago Flower & Garden Show, you can check out another event that focuses on the influence of great architectural vision and design, through the annual Wright Plus Housewalk on May 20, presented by the Frank Lloyd Wright Trust. This year's event celebrates the 150th anniversary of Frank Lloyd Wright's birth and features four private Wright homes.


Book Your Stay with Oasis and Save!

Use the discount code Flower17 when you book and save $100 off your stay in Chicago between March 18 and March 26!


Oasis pioneered the "Home Meets Hotel" concept, combining the quality and service of a hotel with the authenticity and comfort of a private home rental. The Oasis portfolio includes over 2,000 homes in 20+ destinations worldwide.


Click here for full details!


Portrait of a Garden

As part of its 20th Annual Chicago European Union Film Festival (CEUFF), the Gene Siskel Film Center of the School of the Art Institute of Chicago will present Portrait of a Garden on Friday, March 10, at 2:00 pm and Sunday, March 12, at 3:00 pm. This contemplative documentary looks at the care and feeding of the fruitful gardens of a vast Dutch estate under the care of a veteran pruning master and his co-worker. Chicago Flower & Garden Show email subscribers and patrons pay $7 admission (instead of $11) with the code "CHICAGO FLOWER & GARDEN SHOW," valid in-person-only at the Film Center box office. To learn more about Portrait of a Garden, visit www.siskelfilmcenter.org/portraitofagarden. To learn more about CEUFF and the 62 premieres presented from all 28 EU nations from March 3 through 30, visit www.siskelfilmcenter.org/ceuff.


Get a jump on the season by starting some flowers and vegetables indoors. You'll need a clear surface, bright light and warm, moist soil, and you can increase your success by investing in some fluorescent lights, hung 4 to 6 inches above your seedlings as they start to grow. Set the timer for 14 to 16 hours of light each day.


Source: Melinda Myers. Melinda is presenting a seminar at the show, "Create a Stunning Front Yard and Entryway for All to Enjoy" on March 21 at 11 a.m, presented by Birds & Blooms magazine.


Reserve your parking in advance and get there on time, stress free!




To book convenient and affordable parking for the Chicago Flower and Garden Show, we recommend using SpotHero, the nation's leading parking reservation app.
2017 marks the 170th year since the event originally began, tracing its roots to 1847.
Stay tuned

for updates throughout the year on progress for Chicago's Blooming!
Flower Show Productions

producers of the Chicago Flower & Garden Show,

is grateful to its sponsors.

For a complete list,

click here

.