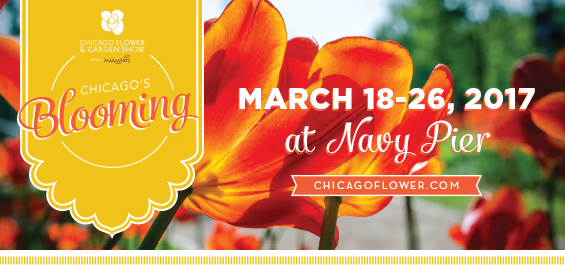 Have Plants, Will Travel




The 2016 Chicago Flower & Garden Show may have closed at Navy Pier, but many of the flowers on the show floor are taking root and blooming all over the Chicago area, from the Youth Services of Glenview/Northbrook's gardens to Designs for Dignity in their community projects, which assist those with intellectual and developmental disabilities. Many schools also received donated flowers, including the Chicago High School for Agricultural Sciences, Charles Darwin Elementary School, and the South Side Occupational facility, among others.

Call for Speakers





As we plan for a spectacular 2017 show, we're inviting professionals in growing, gardening, sustainability and other related industries to join us as presenters in our popular Seminar Series and our Gardening Live presentations. Join us in our mission to educate and inspire gardeners of all ages and interests! Email Sue Markgraf of GreenMark Public Relations at smarkgraf@greenmarkpr.com for more details and a speaker submission form.



170 Years and Counting...




This month, we celebrate 170 years of history for the Chicago Flower & Garden Show, which can trace its roots to June 16, 1847 and the first Exhibition of Fruits & Flowers put on by the Chicago Horticultural Society. 170 years have passed, but people's love of seeing blooms and edibles remains as strong as ever.

Tony Abruscato, director of the Chicago Flower & Garden Show, has shared his passion for inspiring, educating and motiving gardeners in the years' since he's been at the helm of this beloved event. WGN-TV profiled Tony for its popular segment, "Chicago's Very Own" last Friday, June 24 in the 9 p.m. hour. If you missed it live, here

is your chance to see how Tony is inspired by – and inspiring – those who cultivate a love of beauty, growth and sustainability.

Where Perennial Meets Centennial

! We're proud to call Navy Pier home every March, as the host site of the Chicago Flower & Garden Show. As Navy Pier welcomes a new century with an amazing transformation and new attractions (the Centennial Wheel! Ice skating in the summer!), we look forward to sharing in its ongoing legacy.

Make a Splash with Free Tours this Summer!

Visitors to this year's Chicago Flower & Garden Show saw firsthand how water features can transform an ordinary backyard, courtesy of the Aquascape display garden. This summer, see for yourself at the 2016 Aquascape Water & Garden Showcase, which makes waves in the Elmhurst, Lombard and Hinsdale area on July 16, the Naperville area on Aug. 20 and St. Charles area on Sept. 17. Details here

.

"Grow what you love!"


That's the mantra of show director Tony Abruscato, who grows what he loves in his own outdoor spaces, whether it's gardenias that evoke memories of his mother and grandmother, orange blooms that reflect his favorite color or basil and tomato used in his signature Caprese salad. The season is ripe for local Farmer's Markets, which offer an ever-evolving bounty of the freshest, locally and regionally-grown produce. Get your fruits, vegetables, flowers and even artisan meats, baked goods and more at a host of community events, including these Chicago Farmers Markets
.
2017 marks the 170th year since the event originally began, tracing its roots to 1847.
Stay tuned

for updates throughout the year on progress for Chicago's Blooming!

Check Us Out



Flower Show Productions

producers of the Chicago Flower & Garden Show,

is grateful to its sponsors.

For a complete list,

click here

.