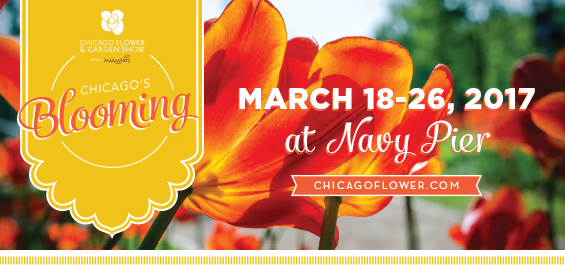 Mark Your Calendar for "Chicago's Blooming!"

March 18-26, 2017 at Navy Pier

Cultivating New Ideas


Our annual road trip of inspiration continued with a visit to AmericanHort's Cultivate '16, held July 9-12 in Columbus. Awed by the color and creativity, we discovered all kinds of plants and new varieties that we hope to share at the 2017 Chicago Flower & Garden Show.




Attention, Groupies


Group ticket sales for the 2017 Chicago Flower & Garden Show are on sale! Make your plans and reserve your spots now, at a discounted price. Click here
for details and ordering information.

Have something to say or share? Tell us!

As we put together an amazing 2017 show, we're seeking experts who can share their passion, purpose and

knowledge with our sizable audience of gardeners and would-be gardeners.




We're a

ccepting applications for educational presenters through Sept. 5; interested speakers can visit our website
for more details. Meanwhile, we're also searching for artists to grace the show floor with their evocative, one-of-a-kind works. We welcome your suggestions! Click here to send us an email and feel free to include images of your works or the works of an artist you admire.




Patio Pointers


Are you making the most of your outdoor surroundings? If you're looking for ways to perk up your patio, reach out to the experts who showcased their ideas and materials at the annual Chicago Flower & Garden Show, such as Unilock
, LaFarge Fox River Decorative Stone and Rochester Concrete Products, among others.

Sustainable gardening practices can not only help create a lovely garden, but can control pests. The Lurie Garden

in Millennium Park, a show partner for 2016 and again in 2017, offers suggestions for plants that repel mosquitoes, from basil to catnip. Learn more in this interview on ABC7 with Lurie Garden director Scott Stewart.

Chicago Sculpture Exhibit

Founded by Alderman Vi Daley in 2001, The Chicago Sculpture Exhibit continues to enhance and enrich the neighborhoods by publicly exhibiting works of local sculptors. This Illinois not-for-profit organization is celebrating its 15th year successfully bringing in over 40 sculptures, drawing interest from artists throughout the US and abroad. Click here

to learn more about the 2016 exhibit and how you can become involved.

From Garden Gate to Plate

Herbs also lend freshness and flavor to your recipes, of course. Chef Didier Durand, a longtime supporter of the Chicago Flower & Garden Show and regular Garden Gourmet presenting chef, shares a sumptuous recipe for chicken breasts made with herbs and wild mushrooms. Bon appetit!

Wild Mushroom Stuffed Chicken Breast




By Chef Didier Durand




Serves 4


Ingredients:


4 (6oz.) single chicken breasts, skin on

4 T. olive oil

Stuffing:


2 cup of sautéed, sliced wild mushrooms of your liking ( Chef Durand uses crimini, button, shiitake, chanterelle and/or brown trumpets)

1 large garlic clove, sliced

1 fresh, ripe plum tomato diced

1 medium shallot, diced

1 green onion, thinly sliced

Fresh Herbs from your garden

¼ tsp. salt

? tsp. black peppercorn, ground

2 Tablespoon of bread crumbs

Preparation

:




In a mixing bowl, combine all ingredients for the stuffing: roasted mushrooms, tomatoes, shallots, garlic, green onion, herbs, bread crumbs and seasoning, blend with a wooden spatula. Set aside.




Place each chicken breast on a board, pound lightly on the thick side.




With a sharp thin knife make an incision length wise.




Using a spoon, divide mixture/stuffing among the four chicken breasts. Use your hand (or a pastry bag ) to push all stuffing inside the chicken breasts. Heat a little oil in a sauté pan and place the chicken breasts, skin side first. Cook on both side (cook for 4 minutes on each side ). Permit to rest for 5 minutes. Serve and enjoy!



2017 marks the 170th year since the event originally began, tracing its roots to 1847.
Stay tuned

for updates throughout the year on progress for Chicago's Blooming!

Check Us Out



Flower Show Productions

producers of the Chicago Flower & Garden Show,

is grateful to its sponsors.

For a complete list,

click here

.