CHILLY CHICAGOANS TRY THE BEACH ON FOR SIZE NEAR TRIBUNE TOWER

Greater Fort Lauderdale Warms Up the Windy City with Free "Beach Looks Good on You" Event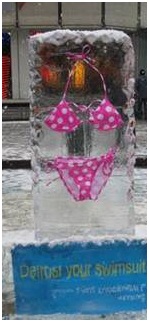 GREAER FORT LAUDERDALE, FL (Feb. 10, 2014)
– On Wednesday, February 19, the Greater Fort Lauderdale Convention & Visitors Bureau will bring the sunshine and a beach chic vibe to Chicago, transforming 401 N. Michigan Avenue, near Tribune Tower, into a tropical oasis.
The one-day "Beach Looks Good on You" event is scheduled from 8am to 2pm, and will feature an oversized heated cabana with projected underwater scenes, frozen sculpted models of ice dressed in bikinis, suspended bikinis frozen in large ice blocks, a huge beachcam screen streaming live images of Fort Lauderdale's beaches, vending machines dispensing free "Hello Sunny" sunglasses for consumers who tweet or post #HelloSunny, a lifeguard stand, paddleboard, and colossal sunglasses for photo ops. Visitors can enter to win a Greater Fort Lauderdale beach getaway.
"We consider this Chicago beach day as more than just a gift of warmth, but a gift of thanks to our good friends in the Windy City," said Nicki E. Grossman, president, Greater Fort Lauderdale Convention & Visitors Bureau.
"With non-stop air service on American, United, Spirit and Southwest airlines connecting Chicago and Fort Lauderdale-Hollywood International Airport, the beach is within a few hours' reach."
Chicago Blackhawks Ambassador Tony Esposito will join in the beach fun to meet, greet and sign autographs along with the Chicago Blackhawks Ice Crew and mascot Tommy Hawk, as well as local WGN radio host Bill Leff. The iconic "Beach-on-Wheels" will also be on site, featuring the sand of Greater Fort Lauderdale's Blue Wave certified beaches, beach balls and bathing-suit clad models. Street teams will further share the sunshine with free Greater Fort Lauderdale sunglasses, water bottles, and ice scrapers.
For more information, visit
www.sunny.org/warmupchicago
.
About Greater Fort Lauderdale:
From the seagrass to the sawgrass, Greater Fort Lauderdale boasts more than 34,000 lodging accommodations at a variety of hotels, luxury spa resorts, and Superior Small Lodgings reflecting a "beach chic" vibe. Visitors enjoy 23 miles of Blue Wave certified beaches, discover 300+ miles of inland waterways that run from the Intracoastal Waterway to the Everglades, dine at thousands of restaurants and eateries, get immersed in a thriving arts and culture scene and indulge in top shopping. For more info, contact the Greater Fort Lauderdale Convention & Visitors Bureau at (800) 22-SUNNY or visit
www.sunny.org
.
The Greater Fort Lauderdale Convention & Visitors Bureau can also be followed on Twitter at
www.twitter.com/visitlauderdale
or become a fan on Facebook at
www.facebook.com/visitlauderdale
or follow our pins at
www.pinterest.com/visitlauderdale
or join us on Foursquare at
www.foursquare.com/visitlauderdale
To have Greater Fort Lauderdale in the palm of your hand, download the free iPhone applications, Defrost Your Swimsuit and 'Fork' Lauderdale, and Mild to Wild the LGBT mobile site at
www.sunny.org/apps
.