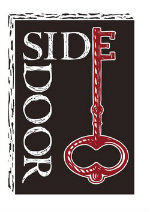 SIDEDOOR TO UNLOCK IN CHICAGO, FEBRUARY 2014
American gastropub featuring hand-carved roasted meats opens in River North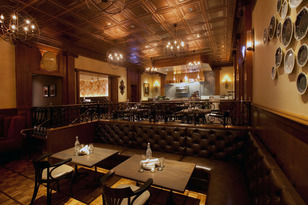 SideDoor
, a relaxed, sophisticated American gastropub from Lawry's Restaurants, Inc., celebrates its Grand Opening

February 18, 2014 in River North.
Enter SideDoor on the Rush Street side of the historic McCormick Mansion to find a formal turn-of the-century dining space and bar transformed into a casual, one-of-a-kind gastropub — a unique, welcoming gathering spot and neighborhood retreat with a personality all its own. "SideDoor has a 'come as you are' vibe, the perfect place to savor craft cocktails and sample small bites." said General Manager Max Maxwell. "We're turning out delicious, shareable plates and sandwiches with a focus on premium roasted meats such as Lawry's Prime Rib that appeals to a new generation of beef lovers."
By combining quarter pound portions of perfectly cooked Lawry's Prime Rib ($15), Slow Roasted & Glazed Short Rib ($15), Prime Angus Sirloin ($14) and Herb Roasted Turkey ($9) along with mustards, horseradishes, pickles and freshly baked breads, guests can create a signature Roasted Meat Board. Pairing this dish with selections from the extensive drink menu and sharing it family-style captures the essence of the SideDoor culinary experience.
Executive Chef Vic Newgren oversees a seasonally changing menu. The seven-ounce Angus beef SideDoor Cheeseburger grilled under a beautiful copper hood and topped with Wisconsin Cheddar and Vic sauce ($11), a hand-carved Lawry's Prime Rib Sandwich with au jus and horseradish ($16) and a House Smoked Pastrami with giardiniera and cheese rarebit on a pretzel roll ($13) are among the Hot 'n Tasty Sandwiches offered. Diners can choose from bites like Prime Rib Chili Cheese Fries ($9), Spicy Glazed Chicken Wings ($11) and IPA Beer Pretzels ($6) or match a Shaved Veggie Salad ($9) or Crisp Kale Caesar ($10) with Prime Rib Chili ($9), Beer Braised Mussels ($12) or Colorado Lamb Shank Pie ($23). They can also enjoy a selection of artisanal cow, sheep or goat cheeses and charcuterie from the Midwest and beyond on a Chef's Plate ($17) or SideDoor Sampler ($25).
The SideDoor beverage program, led by Andrew Macker, showcases regional flavors with a distinctive list of craft beers and cocktails. Locally brewed beers include Two Brothers Cane & Ebel ($8), Three Floyds Pride & Joy ($7), Tyranea Rocky's Revenge ($7) and Founder's Breakfast Stout ($9) among many others. The Michigan Mustang with North Shore Vodka, house-made Fernet, cherry compote and ginger ($12) and
Smoked Negroni
with Aperol, FEW barrel aged gin, Punt e Mes and smoked ice cubes ($13)
are examples of a changing cocktail menu that promises new, sometimes surprising but always satisfying tastes. An expertly curated selection of international wines is designed to pair perfectly with any SideDoor dish.
SideDoor Design and Feel:
Aria Group Architects and members of the Frank family, owners of SideDoor, worked together closely during construction to transform a

formal turn-of-the-century dining room and bar into a

unique space informed by a genuinely eclectic and original design aesthetic. Modern touches highlight and complement existing vintage features. Rich woods, marble mosaic flooring, comfortable lounge seating, subdued lighting and the sounds of classic American jazz, blues and rock create a warm, intimate ambience ideal for lingering over drinks while sharing great food and conversation.
SideDoor, located on the corner of Ontario and Rush Streets in Chicago's River North neighborhood, is open for dinners from 5pm-11pm. Reservations are not taken.
For more information call 312.787.6768, visit SideDoorChicago.com or follow SideDoor on
Twitter
and
Facebook
for flash updates and news.
---
---